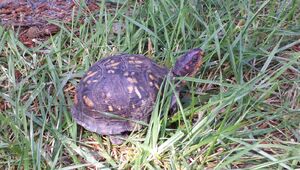 Because of
Horseshoe's
location within the
Octoraro Bend
, it is common for scouts to find
Eastern Box Turtles
around camp. Most years the Troop only has one turtle (typically named after
Paoli 1
alumni) but every few years the number of turtles will increase.
Scouts are permitted to house these wild turtles during their time in camp but must release them back into the wild by week's end. Scouts are also encouraged to bring their turtles up to the nature lodge where they will be housed and fed.
The Turtle Derby
Edit
At the end of the week after Saturday's dinner, the "Turtle Derby" is held. Each turtle's shell is marked with the number of the troop that found it and they are raced against each other. The turtles start from the center of a circle and the first turtle to go outside the circle wins. The Scout that owned the turtle recieves a small patch with a turtle on it as his rewards.
Previous Winners
Edit
Lorran DaCosta - 2006, "The Raging Stampede"
Fun Facts
Edit
One year the Staff Patrol fed their turtle some mineral water. After returning to their pavilion after activities, they found the trunks caging the turtle pushed aside and the turtle no where to be found.
In 2013, Paoli 1 gathered seven turtles throughout the week; the most Paoli 1 has ever gotten in one week. Unfortuneately, the camp did not have a turtle derby so the scouts were forced to release all 7 back into the wild.
Ad blocker interference detected!
Wikia is a free-to-use site that makes money from advertising. We have a modified experience for viewers using ad blockers

Wikia is not accessible if you've made further modifications. Remove the custom ad blocker rule(s) and the page will load as expected.