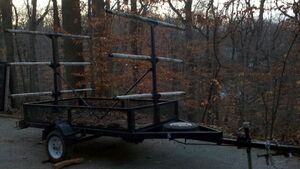 Paoli 1
has several trailers used for varying purposes in the support of the Troop. They are of the utmost importance and make so many trips and projects possible.
Canoe Trailers
Edit
The Troop has two canoe trailers which are typically used to transport the Troop's fleet of boats. This includes kayaks and torrents as well as the canoes themselves. The trailers are used for this purpose for river trips and are used for display purposes on Memorial Day. The six-boat trailer (As seen above and to the right) is used most frequently but the troop also has a seven-boat trailer that is brought out when additional boats are needed. Boats are loaded onto the crossbeams while rafts, PFDs, paddles, and other gear is stored on the bottom level of the trailer. The trailers are generally stored inside or around the Canoe Barn.
In addition,the canoe trailers have a second role to assist with the transportation of other materials. The lower bed of the trailers are useful to hold all sorts of items ranging from coolers to staffs. The upper beams are perfect for carrying long pieces of lumber to and from work sites.
Covered Trailer
Edit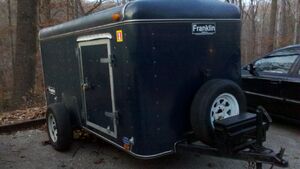 The Troop's covered trailer typically only sees use in bigger events such as summer trips and Horseshoe when extra room is needed for cargo or when equipment is simply too large to be transported in some other vehicle. It also provides a neat place to hang uniforms when scouts go to Horseshoe.
Landscaping Trailer
Edit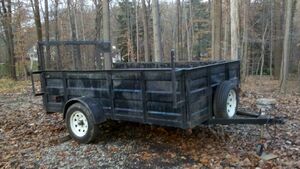 This trailer sees more action with Eagle Projects and work days than anything else. It is ideal for loading building supplies, moving large amounts of logs, or removing debris from a work project. Another of its uses is to transport bikes for Troop bike trips . Of note, the landscape trailer is also used to transport the large number of footlockers to and from Camp Horseshoe each summer.
Ad blocker interference detected!
Wikia is a free-to-use site that makes money from advertising. We have a modified experience for viewers using ad blockers

Wikia is not accessible if you've made further modifications. Remove the custom ad blocker rule(s) and the page will load as expected.