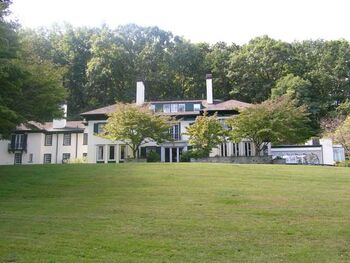 The
Troop Auction
is an annual event which typically occurs in the first week of November. It is one of the primary fundraisers for
Paoli 1
as well as a major social function for the adults of the Troop. The event is held at the Willows, a Radnor Township facility located at 490 Darby-Paoli Road. This is primarily an event for parents, alumni, and friends of
Paoli 1
. Generally only senior scouts are present for the auction to assist the adults who run it.
Preparation
Edit
The Auction is the culmination of months of planning and work behind the scenes. The Willows mansion is decorated for the event, all items are prepared for display, invitations are sent out, catering is arranged, etc. but the auction would be nothing without the items being sold. These items are donated by individual families, patrols, alumni, and local businesses thanks to their generosity and support of Scouting.
The Auction
Edit
The doors usually open at 6pm with hors d'oeuvres, and wraps up around 11pm. The auction is broken into two sections:
Silent Auction
Edit
The first portion of the event is an informal social event. Items are placed on display with cards for interested individuals to write their bid down. Others might come around and bid higher on the same item so bidders should watch the items they are interested in and make certain to get in the last bid. Meanwhile, the silent auction is catered with light food and an open bar. Typically their is also a musician adding to the atmosphere with a constant performance.
Live Auction
Edit
Once the silent auction has ended, all present take seats in a side room for the live auction. Items are brought forward for brief display and then the bidding begins in the style one might be more familiar. Often a few items will be fought over until the price has soared.
With the conclusion of the live auction, the event is concluded. All successful bidders should pick up their items as the party winds down.
Directions
Edit
https://www.google.com/maps?f=q&hl=en&q=500+Darby+Paoli+Rd+19085
Ad blocker interference detected!
Wikia is a free-to-use site that makes money from advertising. We have a modified experience for viewers using ad blockers

Wikia is not accessible if you've made further modifications. Remove the custom ad blocker rule(s) and the page will load as expected.