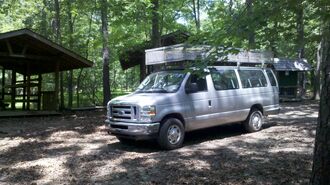 The Troop Van has been replaced several times over the years but in recent decades there has always been a van to go along with
Paoli 1
. The Van can hold 15 passengers and is thus ideal for transporting large numbers of scouts too and from troop events. The van is also equipped with a large roof rack to carry the equipment and gear that may be required for the trip at hand.
The Troop Van is the center piece of nearly every single Paoli 1 event. Whether it's a short drive to Valley Forge Park, the annual trip to Camp Horseshoe, or a lengthy summer trip up to Canada or down to Tennessee, scouts will likely be getting there in the Van. The Van is not just a means for transportation to and from trips. As they say, getting there is half the fun. The stories and jokes told in the Van are sometimes just as memorable as the actual event that follows.
Paoli 1 Troop Vans
Edit
2014-Present: Another Silver Van 2010-Present: Silver Van
????-2010:
Blue Van
Ad blocker interference detected!
Wikia is a free-to-use site that makes money from advertising. We have a modified experience for viewers using ad blockers

Wikia is not accessible if you've made further modifications. Remove the custom ad blocker rule(s) and the page will load as expected.