The Echo is the weekly newsletter of
Camp Horseshoe
handed out to scouts and leaders after
Sunday Lunch
when departing camp. It includes short blurbs about the major events in camp, lists of competition winners, and also the
Silver Buckle
recipients. In past years the Echo was more expansive and also included more detailed stories or editorials but in recent years it has often followed a predetermined format with reused material.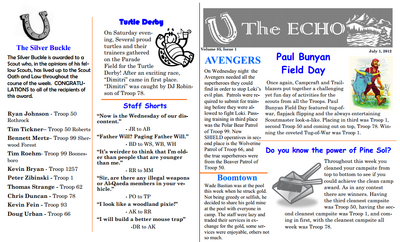 A full list of old Echo issues can be found from the HSRAA's Museum at this website.
Ad blocker interference detected!
Wikia is a free-to-use site that makes money from advertising. We have a modified experience for viewers using ad blockers

Wikia is not accessible if you've made further modifications. Remove the custom ad blocker rule(s) and the page will load as expected.