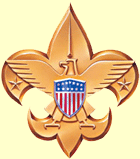 Scouting is a youth organization centered around several core principles. They are clearly stated in the Scout Oath, Law, Motto, and Slogan. The Oath and Law are often recited at events such as
Troop Meetings
, the
Family Dinner
, and the memorial service at the
Memorial Day Parade
.
Scout Oath
Edit
On my honor,
I will do my best to do my duty to God and my Country,
To obey the scout law,
To help other people at all times,
To keep my self physically strong, mentally awake, and morally straight.
Scout Law
Edit
A scout is:
Trustworthy
Loyal
Helpful
Friendly
Courteous
Kind
Obedient
Cheerful
Thrifty
Brave
Clean
Reverent
Scout Motto
Edit
Be prepared.
Scout Slogan
Edit
Do a good turn daily.
Ad blocker interference detected!
Wikia is a free-to-use site that makes money from advertising. We have a modified experience for viewers using ad blockers

Wikia is not accessible if you've made further modifications. Remove the custom ad blocker rule(s) and the page will load as expected.