The sailor hats are worn only on special occasions. They were given to
Paoli 1
to commemorate Paoli 1's trip to Mr. William Miller's Island Heights choir camp. Each
Birthday
, instead of wearing the standard
campaign hats
, scouts instead wear these white sailor hats. The hats are stored in a bag during the "off season" to protect them from outside conditions and are only distributed to the scouts before the event.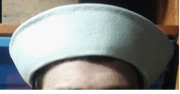 Every other year at Camp Horseshoe, the troop wears the sailor hats to the Water Carnival competition. The troop will wear these hats on every Thursday during retreat at Camp Horseshoe as well.
Ad blocker interference detected!
Wikia is a free-to-use site that makes money from advertising. We have a modified experience for viewers using ad blockers

Wikia is not accessible if you've made further modifications. Remove the custom ad blocker rule(s) and the page will load as expected.