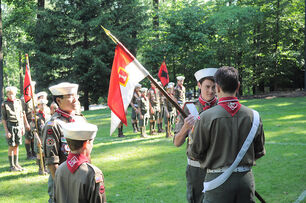 The
SPL Guidon
was introduced at the 97th
Birthday
along with the
Change of Command Ceremony
. It is a symbol of leadership and authority within the Troop and the ceremony it is used in symbolizes the transition of that authority between
Senior Patrol Leaders
.
The guidon is a swallow tailed flag half red and half white with the Paoli 1 Logo in its center.  The guide-on adorns a ceremonial staff which is carried in the ceremony by one of the youngest members of the Troop. 
Senior Patrol Leader Gift
Edit
At the completion of the year, usually at the Birthday, the retiring SPL is given a gift; his own copy of the SPL GuidOn. This tradition was started to privately recognize the services of the SPL throughout his term.