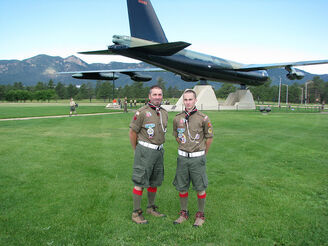 Richard Hood is the father of Justin Hood , a Paoli 1 Eagle Scout and SPL. He joined the Troop with his son in 2004 and quickly became heavily involved in troop activities. He is one of the few Paoli 1 parents who has earned the Triple Crown; he went to Sea Base in 2008, Philmont in 2009, and Northern Tier in 2011. Unfortunately, with the graduation of Justin in 2011, Richard admitted at Northern Tier that he was "sad to have this be the last summer trip with Justin". Luckily, although his activity has decreased, he still supports the Troop in its endeavors.
The Origin of "Killer"
The nickname was given to him by Michael Kiniry on the 2006 Maine trip.  Most participants were nicknamed on that trip but "Killer" is one of the few which stuck and has lasted for years.
Other Information
Ad blocker interference detected!
Wikia is a free-to-use site that makes money from advertising. We have a modified experience for viewers using ad blockers

Wikia is not accessible if you've made further modifications. Remove the custom ad blocker rule(s) and the page will load as expected.