Matthew Dong is the son of Dennis Dong, both of whom joined the Troop in the Spring of 2006. He was placed into Color Patrol under the leadership of Tommy Adelberger. Although he missed the 95th Birthday, he showed consistent and active participation in troop activities. His very first trip was the West Point trip in 2006 and his first summer trip was Maine 2006. He is one of the few scouts in the Troop that experienced the Year of the Flood during his first year at Horseshoe 2006.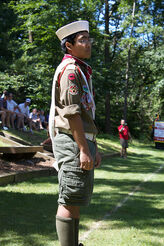 In 2008, he was designated Assistant Patrol Leader in the resurrected Fox Patrol under Cody Pitz. Thereafter he took control of Fox and continued Cody's development of the new patrol (one of which was finding the Fox Staffs). After leaving Fox, he was assigned the position of Quartermaster by Justin Hood. During the year he completed his goal to gain Eagle on the Troop's 100th Birthday. His Eagle Project helped a non-profit organization, Partners for Families, by improving their facility; he painted their stage, painted a gym wall, replaced a toilet, carpeted two office rooms, popcorned an office ceiling, and did a general clean up of the facility. His project is well known due to it's over $2500 cost donated by two Home Depots and Chick-fil-A, who donated lunches for two Saturdays for the scouts.
He succeeded Matt Magnotta as SPL, taking over command of the Troop at the 101st Birthday for the 2012-2013 term. For the 102nd Birthday, Matthew was succeeded by Sam Cepielik.
As a Man Scout, he went to Horseshoe for the whole week as the "Noob" Man Scout in 2013. He passed the Trial of Skill by climbing over the Campcraft wall in the obstacle course while in full Class A Uniform. At the end of the week, Matthew was encouraged to participate in the Mile Swim , but declined thus failing his Trial of Courage and later on Saturday was kicked out of the Man Scouts for incompetence (following a few more incidents). Before doing the Scoutmaster Belly Flop during Water Carnival to redeem his lost honor and earn his position back among the Man Scouts, he repeatedly complained and repeated the Man Scout motto of not wanting to do anything, so unknowingly, he passed the Trial of Spirit. 
Paoli 1 Positions
Man Scout - 2013 (Knighted at the 102nd Birthday: June 15th, 2013 then Reinstated on June 29th, 2013)
Senior Patrol Leader - 2012-2013
Drum and Bugle Corps Captain(s) - 2011-2013
Quartermaster - 2010-2011
Patrol Leader of Fox Patrol - 2009-2010