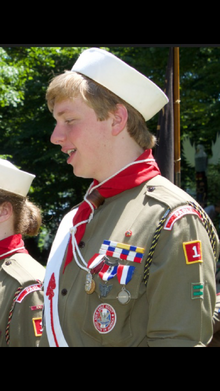 Matthew J. Nirmaier son of Bill Nirmaier and brother of Mark and Carl Nirmaier was a Patrol Leader, Senior Patrol Leader, and Eagle Scout of Paoli Troop 1. He joined the Troop in the spring of 2010 from Pack 112, during the 99th Anniversary of the Troop. He became Eagle Scout in 2016 and was SPL for the 106th Birthday.
Nirmaier began his career in Paoli 1 in the Fox Patrol under the leadership of Matt Dong during the 99th Birthday. He would later be moved to the Wolf Patrol the following year for the 100th Birthday, under the leadership of Alex Schon. Nirmaier then moved back to the Fox Patrol two years later, and would stay in the Fox Patrol for the rest of his patrol years, serving as Assistant Patrol Leader under Mark Dong and as Patrol Leader for the 103rd Birthday.
After his years in the patrols Nirmaier moved to the Staff Patrol in 2014, serving as the Quartermaster of Vehicles, a position that would earn him the Efficiency Cup at the 104th Birthday. Though he may have earned the rank of Eagle Scout after other scouts his year, he remained a loyal and active member in the Staff Patrol, thus being chosen as the next SPL succeeding Norman Keyes. His year at Horseshoe as SPL was notable for his organization and leadership of a large Staff Patrol and for his earning of the Silver Buckle award at the end of the week.
As a communicative leader, Nirmaier was well known for his high amount of respect earned from the other scouts in the troop, and for his ability to execute decisions without slacking or long questioning. He is also an Ordeal member of the Order of the Arrow.
Matt returned to Horseshoe in 2017 for the weekend and learned to transition over to Man Scout leadership. There he passed the Trial of Courage and Skill for his participation in the Scoutmaster Bellyflop during the Water Carnival. He has also completed his triple crown by attended the troop's trip to Norther Tier in 2016 as an adult leader.
Paoli 1 Positions
Edit
Assistant Patrol Leader: 2012-13
Patrol Leader: 2013-14
Quartermaster of Vehicles: 2014-15
Senior Patrol Leader: 2016-17
Ad blocker interference detected!
Wikia is a free-to-use site that makes money from advertising. We have a modified experience for viewers using ad blockers

Wikia is not accessible if you've made further modifications. Remove the custom ad blocker rule(s) and the page will load as expected.