Matt J. Magnotta
is the son of
Scoutmaster
Michael J. Magnotta III
and brother of previous
SPL
and
Eagle Scout
Michael J. Magnotta IV
. Matt became a Paoli 1 Eagle Scout and took the position of SPL at the
100th Birthday
serving for his one year term culminating at the 101st Birthday celebration.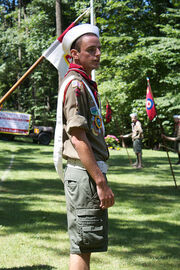 When Matt entered the Troop he joined his brother's patrol, the Lion Patrol. Early on Matt also joined the Drum and Bugle Corps as a drummer and received multiple Drum and Bugle Corps Awards for his contributions the the Corps. He later took over command of the Corps as its Captain in 2010. After serving as Assistant Patrol Leader alongside Cody Pitz during the PL term of Justin Hood and Scott Meltzer, Matt took over sole control of Lion Patrol as the Patrol Leader for the 98th Birthday .
He entered the Staff Patrol after the 98th Birthday and took the position of Scribe (this was also the same time Matt took over the Drum & Bugle Corps as mentioned previously). The following year he became Assistant Senior Patrol Leader to Justin Hood and then replaced Justin as SPL after the 100th Birthday. Following the Birthday, at Camp Horseshoe, Matt earned the Silver Buckle for the 2011 camp year.
Matt returned to Horseshoe in 2012 as a Man Scout after Matthew Dong succeeded him as SPL.
Paoli 1 Positions
Man Scout - 2012
Senior Patrol Leader - 2011-2012
Scribe - 2009-2010
Patrol Leader of Lion Patrol : 2008-2009
Eagle Project
Notable Achievements
He is currently the only member of Paoli 1 to earn the Triple Crown as a scout (youth under 18). The Triple Crown is an award given to anyone that has gone to all three High Adventure Bases.
Ad blocker interference detected!
Wikia is a free-to-use site that makes money from advertising. We have a modified experience for viewers using ad blockers

Wikia is not accessible if you've made further modifications. Remove the custom ad blocker rule(s) and the page will load as expected.