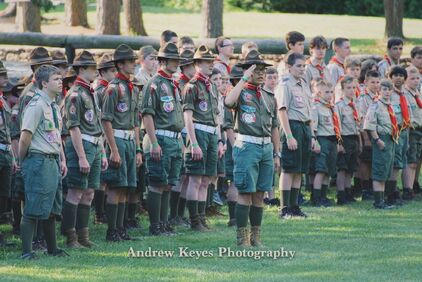 Leonard Y. Chen, son of Larry Chen and brother of Teddy Chen, was a Patrol Leader, Senior Patrol Leader, and is an Eagle Scout of Paoli Troop 1. He joined in the spring of 2011, during the 100th anniversary of the troop.
Chen began his career in Paoli 1 in the Lion Patrol under the leadership of Mark Zibinski. He would continue his years before Staff in the Lion Patrol, serving as an Assistant Patrol Leader under Amir Borghaei and eventually as Patrol Leader for the 104th Birthday. Chen would then move into the Staff Patrol, earning the rank of Eagle Scout in 2016 for the 105th Birthday as a sophomore in high school. He is also an Ordeal Member of the Order of the Arrow.
During his SPL year at Horseshoe, the troop won the marching trophy two times due to his precise and communicative leadership. However, despite him and his troop's continual commitment and practice of the marching craft, Paoli 1 was never to win another trophy for the remainder of the week. While it is true that many factors played into such an outcome, Chen and many of his peers believed that this was simply another showing of the unjust and unrepressed antagonism Camp Horseshoe staff show toward the troop. This became even more evident with the water carnival on Saturday, where in spite of Paoli 1's numerous victories in competitions with the rest of the troops present at camp, such as the underwater swim and the kayak tug-of-war, Paoli 1 received 2nd Place behind Troop 78. Nonetheless, this did not undermine the spirit of Chen or his troop, as Leo was awarded the Silver Buckle at the end of the week, due to his excellence and leadership in camp.
Paoli 1 Positions
Edit
Assistant Patrol Leader: Lion Patrol, 2013-14
Patrol Leader: Lion Patrol, 2014-15
Scribe: 2015-16
Historian: 2016-17
Senior Patrol Leader: 2017-18