Scouts who are a Patrol Leader, Assistant Patrol Leader, or have attained the rank of Eagle Scout wear a lanyard around their neckerchief. Adult leaders who are in uniform wear a lanyard as well. The lanyard loops around the back of the neck over the neckerchief, crisscrossed directly over the slide, and then is twisted three times underneath the neckerchief before the neckerchief is threaded through the lanyard. At this end point of the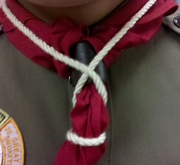 neckerchief, a stopper knot called a turks head holds the lanyard's form tight to the slide while the remainder of the lanyard cord trails off unobstructed to the
rank
(left) pocket and anchors on the button there. A silver whistle is attached at the end of the lanyard and is stored in that pocket for when it is needed.
Assistant Patrol Leaders wear yellow lanyards which are generally passed down through a patrol from assistant to assistant at the conclusion of the annual Birthday. Patrol Leaders, Eagle Scouts, and adult leaders wear white lanyards which they are given upon the promotion to their position and they will wear throughout their scouting career.
Ad blocker interference detected!
Wikia is a free-to-use site that makes money from advertising. We have a modified experience for viewers using ad blockers

Wikia is not accessible if you've made further modifications. Remove the custom ad blocker rule(s) and the page will load as expected.