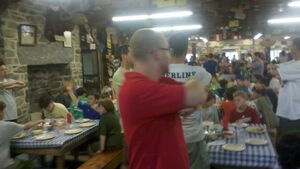 Consistent with Scouting's devotion to God, before each meal served in the
Dining Hall
all present rise and recite a short grace in thanksgiving for the meal.
Saying Grace
Edit
Once all enter the dining hall but before each meal begins, all present stand at their tables and recite the appropriate grace. After the four lines have been spoken in unison, the Camp Director will then say "Amen Seats" all scouts will take seats except for the SPL. He and any Adult Leaders will stand and hold out their arms in the crossed Indian Style with one arm on top of the other. The Camp Director will then say "Rest" and at this signal those standing will raise their right arm and slap it down against the left. This action signals the start of the meal.
Prayer Block
Edit
On each table in the dining hall there is a block which has all three graces printed on each of the four sides. These blocks are used as a guide for the scouts that have not memorized committed the short graces to memory. Usually, the waiter hold the prayer block up so that all scouts may read from it (sometimes he purposely removes it as a test to see if the scouts know it by heart).
Its secondary use is that it is sometimes held and banged down against the table to create loud noises during the more raucous songs.
Breakfast
Edit
Gracious Giver of all good,
Thee we thank for rest and food.
Grant that all we do or say,
In thy service be this day.
Father for this noonday meal,
We would speak the praise we feel.
Health and Strength we have from thee.
Help us Lord to faithful be.
Tireless Guardian on our way,
Thou has kept us well this day.
While we thank thee we request,
Care continued pardon rest.
Ad blocker interference detected!
Wikia is a free-to-use site that makes money from advertising. We have a modified experience for viewers using ad blockers

Wikia is not accessible if you've made further modifications. Remove the custom ad blocker rule(s) and the page will load as expected.