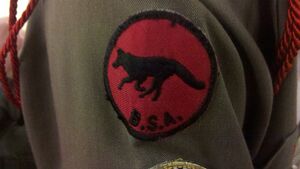 Fox Patrol is the fifth patrol in the patrol order. The patrol was originally created in 1926 and served for many years following, until it was decommissioned due to the small size of the troop to only fit four patrols. Thus, Fox Patrol serves as an extra fifth patrol that is reinstated with regards to the size of the troop. As of 2017, the Fox Patrol is active.
| Patrol Order | Fifth |
| --- | --- |
| Patrol Colors | Blue and Yellow |
| Originally Created | 1926 |
| Reconstituted | 2003/2008 |
Prominent Alumni
Edit
Mark Dong
Sam Cepielik
Eric Williams
Current Members
Edit
 Ross Curio (PL)
 Joe Curcio (APL)
 Ray Donohue
 Jack Undercofler
 Lukas Kornblatt
 Sebastian Golderer
Fox Patrol Leaders
Edit
2016-17, 106th Birthday - Christian Vloedman
2015-16, 105th Birthday - Joseph Callahan
2014-15, 104th Birthday - Sam Williams
To see more of Fox's Past Patrol Leaders click here
Ad blocker interference detected!
Wikia is a free-to-use site that makes money from advertising. We have a modified experience for viewers using ad blockers

Wikia is not accessible if you've made further modifications. Remove the custom ad blocker rule(s) and the page will load as expected.