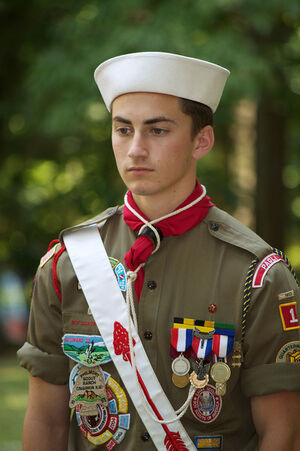 Class A Uniform for Paoli 1 is the "full uniform" and is also known as Full Class A. This includes the green wool shirt, red Paoli 1 tee-shirt, scout pants, belt, canteen web belt, campaign hat, neckerchief, slide, appropriate socks, hiking boots, notepad with pencil, and Boy Scout ID card. Lanyards should also be worn by Assistant Patrol Leaders, Patrol Leaders, and Staff members and both Den Chiefs and Drum and Bugle Corps members should wear their respective shoulder cords.
The patches on the uniform must also be in the correct location and up to date. Scouts are required to have the correct patrol patch and rank patch. If the scout is over fourteen, he must also have the senior patch as well as white belts. Anyone with a position of responsibility must also wear their respective patch on their sleeve. Scouts who have been in the troop for more than one year should also have a year pin with the appropriate backing (Green for younger scouts, red for scouts over fourteen). A scout's name should be on his hat, slide, and both belts.
Class A also changes with the seasons. Summer Class A includes shorts and the green sock socks. The sleeves of the wool shirt are also rolled up to the elbows. Winter Class A has the sleeves down, long pants replace the shorts, and any type of wool sock replaces the green scout socks.
The Class A should not be confused with Class A Dress, which includes awards and medals nor should it be confused with Class A; No Hats or Class A; Sailor Hats which are variations of Class A. Additionally, Class A does not necessarily include OA Sashes.
More Information
Edit