Centerpieces are made every year by the current Assistant Patrol Leader(s) of each patrol for the Family Dinner.  The scouts are to use their imagination and artistic skill to create something Scout themed for their patrol's table.  Typically, recent trips are recreated by the APLs giving an added element of story telling to the centerpiece.  Just prior to the start of the Family Dinner, the Staff Patrol judges the centerpieces and ranks them in order based on originality, creativity, craftsmanship, presentation, and a number of other criteria.  The order in which the patrols eat is determined by the ranking of this contest.
Past Winners
Edit
2017: Eagle - Ethan Skorup
2016: Eagle - Brendan Herrin
2015: Eagle - Jack Roadcap
2014: Fox - Sam Williams
2013: Eagle - Nathan Rose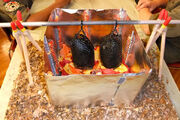 2012: Lion - Mike Roadcap and Ravi Tata
2011: Lion - Redmond Watson
2010: Wolf - Alex Schon
2009:
2008: Color - Robby Adelberger
2007:
Dick Bensing's Orders
Edit
Scouts are prohibited from making any models of the Cabin or other Troop structures and then forcibly "donating" them to Paoli 1.  There are already plenty of models taking up space in the Trophy Room and attic.
Other Rules
Edit
Sometimes, such as in the 2013 Family Dinner, there was a ban on any edible centerpiece. 
Ad blocker interference detected!
Wikia is a free-to-use site that makes money from advertising. We have a modified experience for viewers using ad blockers

Wikia is not accessible if you've made further modifications. Remove the custom ad blocker rule(s) and the page will load as expected.